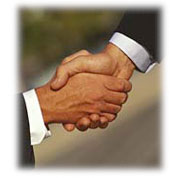 We are committed to you and your customers to provide the utmost personalized service in the title industry. We offer complete title services and closings throughout the state of Indiana.
Listed below are a few of the services we offer atTrustworthy Land Title Co., Inc.:
Commercial & Residential Closings
48-72 Hour Service on Title Orders
In Office and Remote Closings
Saturday and After Hour Closings for Your Customers Convenience
Competitive Closing Costs
Complete Title Clearance - We Will Get Pay-Offs For You
The entire Trustworthy Land Title Co., Inc. staff, as well as myself, are committed to providing you, our customers, the best professional, personalized service in the industry.
Thank you for your time and we look forward to working with each of you. For those of you who have previously worked with us, our sincere thanks to you and your staff for your support and dedication. At Trustworthy Land Title Co., Inc. you can always count on the highest level of integrity and professionalism that you have come to expect from this winning team.
Sincerely,
Raymond L. Summeier, President