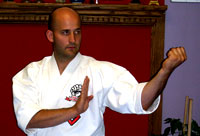 Instructor Senpai Stacy Kremer
Senpai Stacy Kremer started his training in the martial arts at the age of 13 that started with Judo; after losing interest in Judo and time went by he went back into the martial arts. This time he started to train in Ninjitsu, which lasted only a short time, due to the school closure. After a few more years, in 2001 started to study Goju-Ryu Karate-Do under Sensei De-LaGuerra, which also included the study of Kobudo (the art of weapons) and Tai Chi. As time has gone forward he has included various experiences in the arts of Pa Qua, chi Kung, Kobudo, Escrima, Judo, Aikido, Ji Jitsu, and Muay Tai.
Senpai Kremer has also had the pleasure of attending numerous Martial Arts Training Seminars with such notables as, Sensei Platt, Professor Don Jacobs, and Sensei Paul Sykus. Which have included some 24 hour mega training, 12 hour training sessions and sessions in Cochrane Alberta.
Demonstrations have included Oakville's Midnight Madness, Jazz festival, Oakville newcomers club, Oakville Club (tennis camp), organizing demonstrations for the Beavers and boy scouts, and pre-game and half time shows for the Toronto Argonauts at the Sky Dome.
Senpai Stacy's commitment to the community also stems into assisting Karate classes in the Public and catholic school system and for a brief period running the Karate program at Appleby College (private school). As well participating in various charity events like the Kelso Dragon Boat races.
Tournaments have included all CMAC hosted events and the T.N.T International Niagara Falls Karate Tournament 2004 placing 6th in Kata and 8th in Kumite.
Senpai Stacy Kremer has been teaching and assisting classes since 2002 both in CMAC Oakville and more recently with his transition to the Burlington North Dojo. In 2008 he will be adding a new chapter and experience to his career with the opening of his Dojo in Port Elgin Ontario Canada.