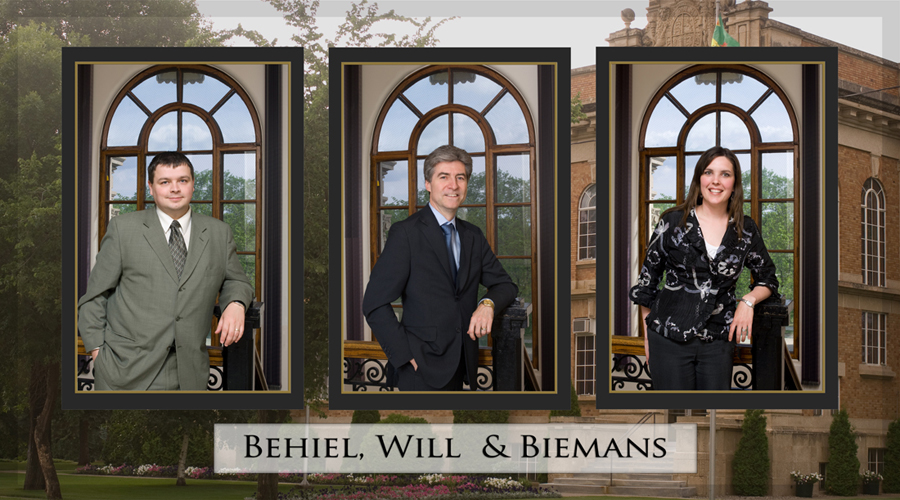 Aaron Behiel is an partner with Behiel, Will & Biemans. He was called to the Bar in July, 2004. He articled with the firm of Wallace Meschishnick Clackson Zawada in Saskatoon and then returned to Humboldt in June of 2004. His main areas of interest are Debtor-Creditor, Wills/Estates, Taxation and all aspects of Business Law.
Aaron was born in Saskatoon and raised in Humboldt, Saskatchewan . In 1992, he moved to Saskatoon to further his education. After two years at the University of Saskatchewan , he started a career as a Chef. He pursued this career over the next six years.
In 1999, Aaron returned to the University of Saskatchewan and, in a complete shift from his previous study areas of Chemistry and Biology, he majored in Philosophy. The following year he was accepted into the College of Law . He received his Bachelor of Laws degree with distinction in 2003.
Since returning to Humboldt Aaron served a two year term on the Humboldt & District Chamber of Commerce and was elected to Humboldt City Council in 2006.
In his spare time Aaron enjoys hunting, fishing, golfing, camping and numerous other activities.
Amber Biemans is a partner with Behiel, Will & Biemans. She has many connections in the Humboldt area. She grew up in Bruno and her husband is from Engelfeld. Amber attended University in Saskatoon for 8 years during which time she obtained her B.A. and LL.B. and graduated from the College of Law in 2005.
Amber articled in Weyburn and was called to the Bar in 2006 and at the end or her articles she returned to Humboldt where she has remained.
Amber keeps busy with her three children. She enjoys spending time with friends and family, photography, sports, being outdoors and doing arts and crafts.