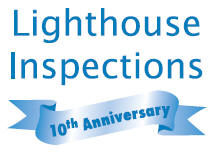 We offer a comprehensive reporting system, tailored to your home that covers virtually all areas of the home. A completed report will be given to you on the spot - without compromising the quality of the inspection.
Don't be overwhelmed by its size, our reports are fully indexed for quick and easy reference. A complimentary Maintenance book and Cost Estimator will help you to budget and prioritize for any needed repairs.
Service: Lighthouse Inspections is focused on service. We offer flexible appointments so that we can be available when you need us - often an inspector is available within 24 hours. We offer ongoing technical support and quick access to your inspector after you move in to help with any ongoing questions.
All Lighthouse services are performed by highly qualified inspectors at reasonable rates. Contact Lighthouse for a quote on your inspection.
Reliable: Lighthouse inspectors are reliable, we are there every time you need us. Even if you have little time for your inspection clause, one of the Lighthouse team can be there to help meet your schedule.
Process: Both first time buyers and seasoned renovators will benefit from the Lighthouse inspection. Your home inspector will identify and explain:
* Areas vulnerable to deterioration
* Maintenance suggestions and recommendations tailored to your home
* The operation and safety features of all components
* How to handle necessary repairs and why the damage occurred
Your Lighthouse Home Inspector will seek to answer all of your questions. We are available after you move in for any additional questions that may arise. The Inspection Report is provided on-site and serves as a quick and easy reference for as long as you own the home.
Our reputation, service, and experience are second to none, so call Lighthouse today for more information.