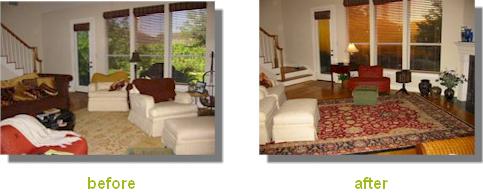 Hummingbird redezign is preparing a home for sale on the real estate market by putting on its best face. Compare it to having a professional photograph taken. You naturally want to look your very best! Real estate home presentation is like applying proper make-up and wearing flattering clothes on a first date! First impressions are the most memorable impressions.
Studies have shown that potential buyers generally make up their minds in the first 60 seconds of seeing a property whether they want to pursue a purchase. The home is made more marketable to the average buyer by creating spacious, balanced rooms that impact buyers to focus on the best features of the home. When a home is professionally styled for the market, potential buyers can more easily see themselves and their furnishings fitting beautifully into the house being considered. Overcoming this hurdle puts the potential buyer well on the road to making an offer on your house.
WHAT HUMMINGBIRD REDEZIGN IS NOT: a critique of your personal style or decorating ability.
GOALS OF HUMMINGBIRD REDEZIGN:
1. neutralize the home to maximize its appeal to the most number of buyers
2. create a sense of space and beauty by editing the furnishings
3. play up your home's features so that buyers notice and remember them
WHAT DOES HUMMINGBIRD REDEZIGN INVOLVE?
Home Presentation/Selling is all about merchandising; therefore, home presentation is merchandising to sell your home.
The single most important aspect of real estate preparation is viewing your home with fresh eyes. We know how a home can appeal to the largest number of people and what exactly must be done to create this response. Editing of furniture and accessories is a large piece of the process and often the furniture arrangement can be improved.
WHO NEEDS HUMMINGBIRD REDEZIGN?
Anyone who desires to sell their home, either with or without a realtor, who wants the HIGHEST SALES PRICE IN THE SHORTEST TIME needs the skills of a home presenter.
If you are short on time or lack interest in fixing up the home you are leaving, we are your perfect solution! We are positive we can make your home show better and will probably produce more offers at higher prices than if our services were not used.
HOW DOES HUMMINGBIRD REDEZIGN BENEFIT YOU?
1. MORE PROFIT! - Homes that sell faster usually sell closer to the asking price which means more money in YOUR pocket.
2. MORE COMPETITIVE IN THE MARKET! - Homes that have properly been prepared stand out from comparable ones on the market at the same time. They also typically sell sooner.
3. LESS STRESS! – Let's face it: selling a home and moving are highly stressful situations even at best. A home presenter can speed up the process (and thus reduce the stress) because the major part of the work is completed in short order. Additionally, we leave a prioritized list of specific tasks to be completed and how to do them, if that is your desire. Everything is easier when there is a plan in place!
4. LESS UNCERTAINTY! - The less time your home sets on the market, the easier it is to finalize plans for moving, etc. You are eager to get back to a more normal life, especially if your children are involved.
5. LESS WORK! - Keeping a home presentable for showings is difficult in the best of circumstances. A fast-selling home reduces the daily work for YOU!
6. LESS INCONVENIENCE! - A quick sale means fewer evenings and week-ends that you must leave for buyers to traipse through your house.
THEREFORE, WOULDN'T IT BE WISE TO PUT FORTH THE BEST EFFORT INITIALLY TO SELL YOU HOUSE QUICKLY?
OF COURSE IT IS! HIRE HUMMINGBIRD REDEZIGN!!