About Realty Executives Elite

A new real estate office in London is offering buyers and sellers a different approach to changing their address. The team at Realty Executives Elite Ltd. Brokerage puts their clients ahead of the curve in terms of information, options and service.
With more than 35 years of combined experience, owners Costa Poulopoulos and Mary Johnson have made it their goal to offer real estate service at the speed of life. They know that young families wanting to make a move are overwhelmed by available housing choices, market fluctuations and the mechanics of buying and selling. "We take care of these things for them," says Poulopoulos. "By first understanding their vision for a home that works for their life stages, we can apply our market knowledge to finding a place where they can create lasting memories."
The London Elite branch offers the latest in technology and innovative tools to give their clients an edge in real estate transactions. "Part of the unique service at Realty Executives is the online "First to Know" program," says Johnson. "Our clients register with their preferences, and they are the first to know about new listings that meet their criteria the instant they come on the market. They may even hear about suitable listings before their agent does!"
The growing team at Realty Executives Elite office is made up of spirited, energetic agents that care about their clients' needs first. Part of an international organization with over 2,500 locations, Realty Executives Elite Ltd. Brokerage is proud to uphold the parent company's values of integrity, leadership and ingenuity.
Buying or selling? You owe it to yourself to discover the "Executive" treatment today
Costa Poulopoulos - Broker of Record / Owner
Practice Areas: Past Director of The Marketing Division of London and St. Thomas Association of Realtors (LSTAR), specializing in the area of commercial and residential real estate transactions, development, construction, financing, and leasing.
Biographical Notes: Costa is the 2007 Past President of the London St. Thomas Association of Realtors. Costa is also a Past President of The Marketing Division of London and St. Thomas Association of Realtors (LSTAR), he works primarily with clients in transactions involving commercial, residential, multi-family residential, and special use real property.
Costa has sat on the Board of Directors as a Director on the London St. Thomas Association of Realtors, and as such, was involved in the overall operation of the Real Estate Association and its members. Costa has just been elected to sit as a Provincial Director on the Ontario Real Estate Association for the Western Area of the province, for a 2 year term (2007-2008).
He is also involved as an orientation guide for new realtors.He has been awarded twice with the outstanding achievement award for his contribution to the Real Estate Profession in South Western Ontario and to his local real estate association in 2000 and 2008. Costa speaks three languages and his creative marketing ideas and materials are often used in real estate training classes.
Costa Poulopoulos graduated from the Marketing and Business Administration Programs at Fanshawe College in London, Ontario. Costa is a past member of The Board Of Ethics, Professional Standards and Discipline Committees Of The London St. Thomas Association of Realtors. Costa has been licenced since 1987.
Mary Johnson - Sales Person / Owner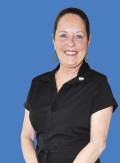 Mary has provided outstanding client counselling, education and service, working as a Leasing and Property Manager as well as Vice President of Leasing for a large development company. Her attention to detail and the emphasis she places on educating her clients throughout the transaction has earned her high praise from her loyal clients.
A diverse background in the fields of marketing, retail, commercial leasing and sales has helped Mary to shape the unique style that has become the hallmark of her successful real estate career. "The fun part of this is really helping someone find the right property, and I will do all I can to make that happen," she says.
In her career Mary worked for developers specializing in retail and commercial leasing and sales. She also worked for ALCOR Property Management and as the Vice President of Leasing for Decade Development. Furthermore Mary has run her own property management company, prior to obtaining her real estate license. Mary has been licenced since 1996.